A. Laurie Palmer explores issues of resource extraction, consumption, recycling, and waste by excavating the life of an extinct Chicago quarry, once a dump for incinerator ash and construction debris and now under redevelopment as a city park. Her installation, which can be seen in the gallery's entrance atrium, is complemented by a video naming items diverted from area landfills through the online exchange list Freecycle. Palmer leads a tour of the Stearns Quarry site with Chicago Park District project manager Claudine Malik, on September 10.
For more information on Stearns Quarry: http://www.nearwestgazette.com/0405-Bridgeport.htm / http://www.hbsexcavating.com/id15.html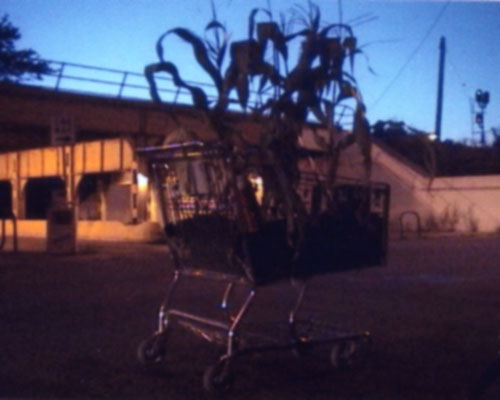 Fascinated with the ways that wilderness carves out niches within the city, Nance Klehm offers "Collection Suit/Dispersal Suits," which consists of specially designed clothing to aid in collecting, identifying and distributing native and wild plant seeds. Over the course of the exhibition, one suit will sprout seeds using a hydroponic system in the gallery. In addition, Klehm leads a seed collection walk along the Kinzie tracks, starting at Racine.
Michael Piazza's "Drop Off Corner/Option Station" explores the way speculative commodity markets transform agricultural products into liquid capital and inverts the transformation by returning the commodity abstraction back to the land. Piazza worked with Lisa Haynes at Tomahnous Farms (Mahomet, IL) to design garlic containers made from waste paper produced at the Chicago Board of Trade. His installation includes documentation of the commodity trade waste stream and prototypes for farm containers made of recycled materials.
Recognizing that urban youth often lack the opportunity, mobility, and know-how to travel independently outside the city (and often face discrimination when they do), the Stockyard Institute, an organization of artists and teens, contributes a prototype rural survival kit for kids to the exhibition.
Experimental filmmaker Thomas Comerford curates a three-part series of films and videos, selected from different decades, that examine the Chicago landscape but vary in their observation of the forces that transform it. "Chicago Gridded/Revised" (The Gene Siskel Film Center, September 8, 6 pm) presents a cross section of older and contemporary films by such artists as James Benning, the Kartemquin Collective, and Paul Lloyd Sargent. "The Town and the City", at I space on September 29, presents documentaries exploring how communities in Chicago and small, Midwestern towns experience and resist shifts in landscape, economy, and livelihood. The final screening, on October 20th at the Ice Factory, presents Deborah Stratman's experimental documentary, "The Boulevard." More complete information on the films are available on the "events" page.
Free Walking's "Midwest Migrations Part 1" is an ambitious, 200-mile walk tracing little-known histories of 19th-century nomads through the industrial corridors, suburbs, farms, and small towns of contemporary Illinois. Part collage, part road trip, and part pilgrimage, the journey explores layers of marginalized histories in the landscape and asks what it means to travel long distances by foot today. The walk begins August 28th at the intersection of Hoyne and Augusta, near the Moorish Science Temple, makes a stop in the town of Hopkins Park for the annual Marcus Garvey Festival, and ends in the village of Mahomet on September 15. << LINK >>
Image from Gone to Croatan: Origins of North American Dropout Culture by Ron Sakolsky & James Koehnline (eds.).
Brian Dortmund's "Open Rivers" is a proposed canoe trip down the Chicago, Des Plaines, and Kankakee rivers that would take the latter-day explorer through land visited by Marquette and Joliet and subsequently claimed by wastewater treatment plants, refineries, and the US military. In the gallery, Dortmund shows a route map made with found materials along the rivers. A 3-day group canoe trip along the proposed route is planned for spring, 2006.
Frances Whitehead contributes the beautiful, data-driven drawing "Known Territory (roads, highways, raillines, rail stations, counties, census tracts, census blocks, elevation contours, bathymetry contours, hydrology, shoreline, statelines, city boundries, urban areas, zipcodes, 24K grid, 100k grid, 250K grid)." Built using the mapping software GIS, the large, semi-abstract depicts the new wilderness of information systems overlaid on the landscape.
Melinda Fries's video, "Walking the Perimeter," is the result of traveling the edges of Chicago's vast industrial corridors by foot. Her camera carefully frames the corridor's unique landscapes, describing the rusting urban infrastructure, brilliantly colored murals, and aggressive vegetation that always threatens to reclaim these little-trafficked areas of town. To coincide with the exhibition, Fries is also leading a public walk of one of Chicago's industrial corridors.
The bikecartinfoshop hosts a mobile library of books, zines, and brochures to be enjoyed by gallery visitors and taken into the field. Thanks to Melinda Fries for assistance in collecting zines and to Reaktion Books, University of Minnesota Press, Columbia University Press, W.W. Norton, Lake Claremont Press, University of Wisconsin Press, Princeton University Press, University of Illinois Press, Northern Illinois University Press, Openlands Project, Center for Neighborhood Technology, and Association of American Geographers for their donations.
In The Weather, a collaboration based on a mutual interest in walking, is seeking submissions to be included in an online database, intheweather.org, from which users may download Walking Directions. Walking Directions can be from/to any place and the walk can be of any length. Walking Directions can be given in writing, drawings, photographs, or other forms; maps are encouraged. To submit a set of Directions or to ask questions, please send email to: submit@intheweather.org.